Sports Made Possible // Outreach · Any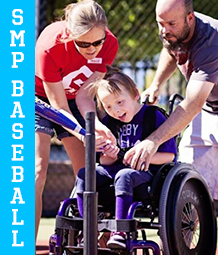 Come join us as we serve with an incredible organization! Sports Made Possible is a non-profit that provides children and adults, who are living with various mental and/or physical challenges, an opportunity to play basetball as a team member in an organizaed league. They do an amazing job of providing an exciting baseball experience to kids of all ages with special needs. Volunteers will have the privleage to serve as buddies to each and every person who participates. It's a great way to serve and have a blast doing it! It's a life-changing outreach for anyone who participaties!
WHERE: Jason Jennings Adaptive Field
WHEN: Saturday September 19th
ACTIVITIES: Each volunteer will act as a buddy in which they will be paired with players and volunteers to ensure the safety of the players and most importantly be their biggest fan and cheer them on as they play!
Contact: krystal@activ8sports.com